Hydrogen Challenge #2 Bergen-Bolzano (Day 3)
The "436 kilometres from Hamburg to Duesseldorf" mentioned in the YouTube-video, later were reduced to 404 km thanks to some diversions which initially were caused by the heavy traffic on the German Autobahn on Day 3.  I was happy to arrive at Duesseldorf Höherweg Air Liquide station again, after I had been there in February 2016.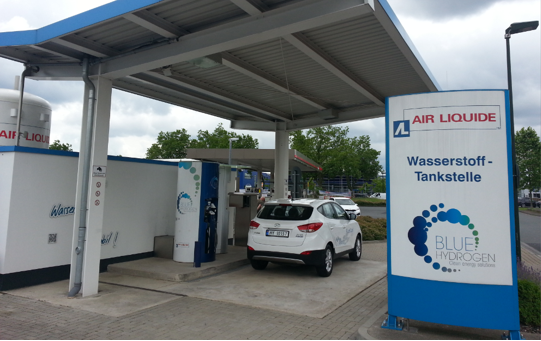 Day 3 – Air Liquide hydrogen refuelling station at Duesseldorf
The company Air Liquide gave us a presentation, mentioning among others that this was Air Liquide's first hydrogen refuelling station in Germany, and that several more to be constructed by them in Germany are under way.  Much needed refreshments were offered in the Hydrogen Information Center just adjacent to the hydrogen gas bottles comp0und.
The fact that 4.67 kg of hydrogen were filled compared to 404 km driven on that day, being a less good ratio than that of the previous day, was due to three factors:
a)  flooring that pedal at times (testing the acceleration)
b)  generally driving at a faster average resp. maximum speed, as one generally does not drive as fast in Norway and Denmark as one may do in Germany (Autobahn), and this of course means using up more of the energy that is available in the tank
c)  using the "D"-drive mode instead of the "E"-drive mode which allows you to accelerate faster and thereby consume more energy each time.
In the evening, a superb dinner at the Schwan Restaurant in Sternstrasse was served after a hard day's work.