Hydrogen Challenge #2 Bergen-Bolzano (Day 4)
Day 4 may have been felt by some as the most critical of the five days.  A total of 628 km were driven on the fourth day.  It was the day with the longest distance, and with the highest number of events all to be mastered in conjunction with additional FCEVs, as well as from further European countries, joining the fleet.
The first event, after a truly recommendable breakfast at Meliá Hotel, Duesseldorf, was the presentation of the two brand new Hyundai Ioniq (pure electric as well as hybrid, but not yet the plug-in hybrid) at Hyundai Germany and Hyundai Europe resp. headquarters in Offenbach, Germany, near Frankfurt.  Driving on the German Autobahn from Duesseldorf to Offenbach meant careful navigation around the heavy work traffic surrounding Duesseldorf.  While the Bayern 2 radio station gave good traffic updates, the combination with an unbeatable navigation system in the Hyundai FCEV made it possible to arrive on time, and, as is the case when you are driving electrically, you also arrive in a more refreshed way than in a combustion engine car.
Thereafter, the second leg on that day brought us to the obligatory hydrogen refuelling stop at Geiselwind, Germany (where I refuelled 4.03 kg H2).  I had not been to that station before, and it turned out to be a unique experience.  The majority of the FCEV group arrived more or less at the same time.  Though the hydrogen refuelling per FCEV only takes roughly three minutes, the interval between the vehicles kept getting longer as pressure in the hydrogen storage (200 bar) had to be built up by the compressor to fill the FCEV (700 bar).  We were greeted by a Linde technician who happened to be available routinely at the site and who helped us out.  The additional time allowed for some group photos (see me sitting inside the FCEV), but meant a delayed departure for the third leg.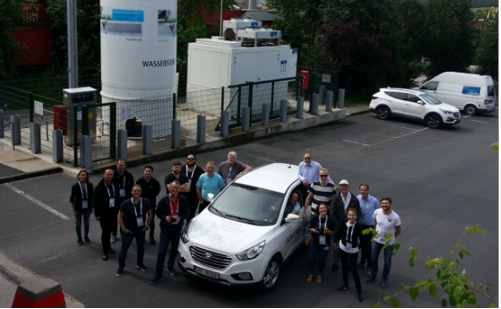 Day 4 – Geiselwind station, TOTAL/Linde
The destination of the third leg and therefore of the fourth day was Munich, Germany, more specifically Munich-Unterhaching.  At the driveway of the hotel, a tent was set up to host a presentation by BeeZero, a subsidiary company of Linde, and the first hydrogen car-sharing platform in the World; giving access to many people to just drive the FCEV experience without having to own one.
Some of the FCEV drivers including myself did not refuel at the hydrogen refuelling station at Munich-Detmoldstrasse (TOTAL), due to lack of time.  Fortunately however, previous experiences had already been made by myself to refuel at that station, such as on my journey from Innsbruck to Amsterdam, and before that in September 2015 and December 2015.  The hydrogen refuelling had been taken care of by the support team who were working late hours; Thank you.
My highlight on that day was that I discovered a hydrogen sensor mounted in the roof of the car positioned above the driver seat headrest: