Following my road trips Innsbruck-Amsterdam and Bergen-Bolzano, in November 2018 I drove from Innsbruck to Rotterdam; Hydrogen Challenge #3.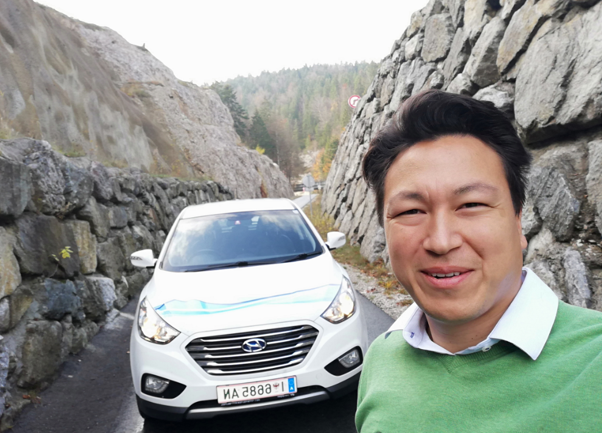 Hydrogen Challenge #3
On Day 1, 03.11.2018, my journey began in Innsbruck, Tyrol, Austria.  I was heading North.  I did not know if I was going to reach Düsseldorf again, like I did on 16.02.2016, when I drove to Amsterdam.  Due to so many new hydrogen refuelling stations in Germany, I was able to keep driving and keep refuelling hydrogen at an exhilarating pace, such that I drove from Austria, through Germany, to The Netherlands and all in one day.  Astonishing.  The App by H2 Mobility was quite useful, too.  I did not have it in 2016, but used it this time round.  I would like it in the dashboard.
Part 1   Innsbruck (A) – Ulm Metzingen Pforzheim Wiesbaden Rechen (D) – Helmond (NL)
On Day 2, 04.11.2018, I began the day with refuelling at Helmond station (Waterstofnet), and which was my third time showing up there.  Absolute pleasure everytime.  Short trip that day to the historic city of Nijmegen to visit an old friend.
On Day 3, 05.11.2018, I left Nijmegen and visited the inspiring city of Arnhem.  Thereafter, I continued heading West to Rotterdam.  There, I planned to refuel hydrogen at Rhoon, but only did so the next day.  I went to an evening event in Den Haag.
On Day 4, 06.11.2018, it was time to join the WOCOMOCO-conference for the third time.  I was allowed to hold a short presentation as well, and I was grateful for that.  In the afternoon, I drove to Rhoon to refuel hydrogen, and carried on my journey heading East to Cologne.
On Day 5, 07.11.2018, I tested a number of hydrogen refuelling stations as I drove South through Germany again.  For me, there are so very many stations now, that I do not know where to refuel first.  That was different two years before.  I managed to drive across the border to France and came back to Freiburg, the city with one of the greatest hydrogen refuelling stations I have seen.
On Day 6, 08.11.2018, it was finally time to head back to Innsbruck to return the car and catch the train back to Vienna.
What have I learned this time?
Firstly, I like the old Hyundai ix35/Tucson FCEV still very much.  Secondly, suddenly there are already so many hydrogen refuelling stations in Germany, and the App from H2 Mobility just takes you everyhwere.  Suddenly, hydrogen driving, especially over long distances, has become so easy.  Amazing.  Inspiring.
For the next road trip?
I will take a new car, but I will also take the same car.  I am testing the hydrogen infrastructure, I have recommendations from my personal observations.  I look forward to see more hydrogen cars en route, and maybe I will drive together with someone one day.  Of course, the trip has to be more than 1,000 kilometres (621 miles) one way, and span across a minimum of three countries.
Hydrogen Challenge #4
… somewhere, somehow in Summertime.
NOTICE:  I check with persons and companies mentioned in the blogs if there are any queries or other circumstances.  If you need information, please go to the Imprint, or feel free to get in touch with me.  In case you feel that any data or information that I provide, should not be on this website (www.energytours.eu), or in case I am potentially infringing on any rights or duties that you consider proprietary, please visit the Terms & Conditions or contact me.
Previous hydrogen fuel cell FCEV road trips