In November 2018 I drove from Innsbruck to Rotterdam; it was my …
Hydrogen Challenge #3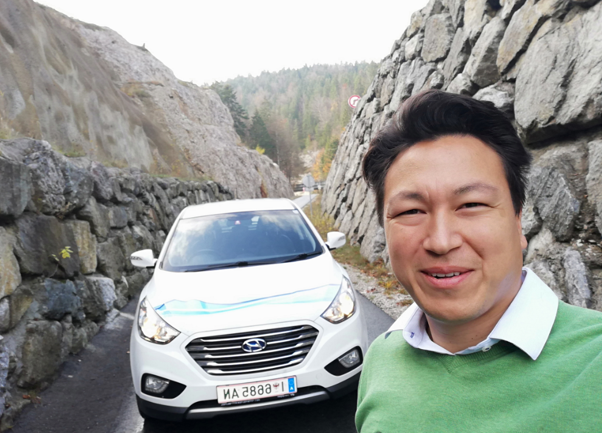 Day 1, 03.11.2018 – My journey began in Innsbruck, Tyrol, Austria.  I was heading North.  I did not know if I was going to reach Düsseldorf same day, like I did on my first challenge (February 2016) when I drove to Amsterdam.  Due to so many new hydrogen refuelling stations in Germany, I was able to keep driving and keep refuelling hydrogen at an exhilarating pace.  I drove from Austria, through Germany, and even reached The Netherlands all in one day.  The App by H2 Mobility was quite useful; I did not have it, back in 2016.
It would be even better integrated in the dashboard than having to look at my smartphone.
Part 1   AUSTRIA: Innsbruck – GERMANY: Ulm, Metzingen, Pforzheim, Wiesbaden and Rechen – THE NETHERLANDS: Helmond
Day 2, 04.11.2018 – I began the day with refuelling at Helmond station (Waterstofnet), and which was my third time showing up there.  Absolute pleasure everytime.  Only a short trip on Day 2 to the historic city of Nijmegen, to visit an old friend.
Day 3, 05.11.2018 – I left Nijmegen and ventured to visit inspiring Arnhem; home to some fuel cell-buses that I yet like to ride in and try out some day.  Thereafter, I continued heading West all the way to Rotterdam.  There, I planned to refuel hydrogen at Rhoon, just South of Rotterdam, but only did so on the next day.  In the evening of Day 3, I went a tad up North to Den Haag for the opening event of the WOCOMOCO Conference, and heard presentations on carsharing.
Part 2
Day 4, 06.11.2018 – It was time to join the WOCOMOCO Conference for the third time.  At the Conference, I also held a short presentation on hydrogen-carsharing; a topic which I find we might see more of in the future, and am still looking for enthusiasts …
The same afternoon, I drove to Rhoon to finally refuel hydrogen at my second hydrogen refuelling station in The Netherlands.  And then, I carried on my journey back heading East to Cologne, where I stayed the night.
Day 5, 07.11.2018 – I tested several hydrogen refuelling stations as I drove from Cologne further South to Switzerland and Austria.  That was a totally different experience compared to two years ago.  I even managed to drive across the border to France and came back to Freiburg, Germany, the city with one of the greatest hydrogen refuelling stations I have seen.
Part 3
Day 6, 08.11.2018 – It was finally time to head back to Innsbruck to return the car and catch the train back to Vienna.  Quite an experience.
What did I learn this time?
Firstly, I like the old Hyundai ix35/Tucson FCEV still very much.  Secondly, suddenly there are already so many hydrogen refuelling stations, among others, in Germany.  And, the App from H2 Mobility is very useful.  Hydrogen driving, especially over long distances, has become easy and inspiring.
Previous hydrogen fuel cell FCEV road trips
Hydrogen Challenge #1  Innsbruck-Amsterdam
Hydrogen Challenge #2  Bergen-Bolzano
Hydrogen Challenge #4
COMING SOON
NOTICE:  I check with persons and companies mentioned in the blogs if there are any queries or other circumstances.  If you need information, please go to the Imprint, or feel free to get in touch with me.  In case you feel that any data or information that I provide, should not be on this website (www.energytours.eu), or in case I am potentially infringing on any rights or duties that you consider proprietary, please visit the Terms & Conditions or contact me.