Hydrogen Challenge #2 Bergen-Bolzano (Day 5)
Day 5 and the last 305 km, but stretching across three countries, namely Germany (Bavaria), Austria (Tyrol) and Italy (South Tyrol).  Final destination:  Bolzano. More FCEVs joined the hydrogen pioneers along the way.  May I introduce, … the Viennese FCEV: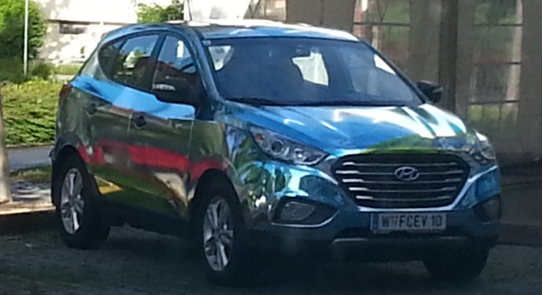 Leaving Germany behind us, the mountains grew and grew as we headed further South.  Another country, another event.  At Innsbruck, a very special city and home to my favourite refuelling stop, we witnessed the opening ceremony of the Green Energy Center, set up to inform the public about alternative propulsion.  It is located near Innsbruck Airport (Kranebitten) and is easily accesible from the A12 motorway, Exit Innsbruck-West.  The many FCEVs, from all across Europe, filled the parking lot of the Green Energy Center, just the sight of it being a real treat for the hydrogen heart (#HydroChan). Innsbruck, as one of five cities in Austria to run a public hydrogen refuelling station, built in 2015 by Linde (see picture), is also the location for two companies where FCEVs can be tested and rented.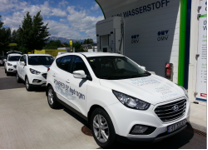 My "home" H2 station
Departing from Innsbruck heading South, the fantastic Alpine scenery made the very last leg almost complete; third country in one day.   Another country, another event.  At the Institute of Innovative Technology (IIT) in Bolzano South one final presentation was addressed to the FCEV crowd.  We learned that the IIT is also an early hydrogen adopter and is the operator of the first hydrogen refuelling station in Italy, situated at a strategic location along the Tyrolian North-South corridor.  At the site, the hydrogen is produced by way of electrolysis.  The electricity for it is generated by regional hydropower.  And so the 2016 Bergen to Bolzano hydrogen tour organised by Hyundai was thus concluded with a happy lunch.  Soon after it was farewell for most drivers returning to their respective home countries and cities.  For the support team it meant returning the cars to each of their original locations, all across Europe; all in all an extensive logistical effort before and after the actual five-day trip.
As a last note:  we were not the only FCEVs on the roads, as another FCEV unrelated to our group was seen as well.
Thank you to Hyundai for "New Thinking and New Possibilities", and a "Hip, Hip, Hydrogen"-cheer to all the participants and all persons involved.  It was awesome to join the FCEV group.