Hydrogen Challenge #2 Bergen-Bolzano (Day 1)
In the Summer of 2016, I joined a group of hydrogen pioneers, organised by Hyundai Europe and invited by Sven Geitmann, to gain further experience and pursue an extended journey in fuel cell-electric vehicles (FCEVs).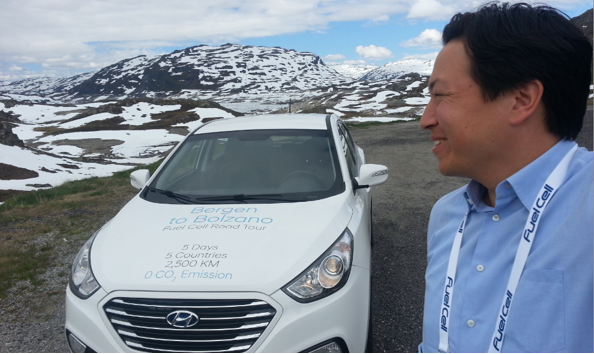 Folgefonna Nasjonalpark, Norway (national route 551)
A dozen-or-so FCEVs were to drive across Europe, North-to-South, over a period of five days.  First, 9 FCEVs started on June 12, 2016 in Norway.  Along the way, more FCEVs joined, reaching a total of 15 FCEVs.  For logistical support, 2 internal combustion engine (ICE) Hyundai-vehicles, refuelling Diesel, were accompanying the FCEV-group all the way.  The hydrogen refuelling stops made during the 5 days were in Porsgrunn (N), Århus (DK), Hamburg (D), Dusseldorf (D), Geiselwind (D), Munich (D), Innsbruck (A) and Bolzano (I).  Our FCEV-group consisted of 7 nationalities and we spoke in 9 languages.
We departed Bergen at 06:15 a.m.  Driving at 80 kilometres per hour (km/h), the countryside was sunny and green, cold waterfalls inbetween and even snowscapes.  While listening to the P4 Norge radio station, the navigational aid had the directions for our first refuelling stop in Porsgrunn.  A couple of photo stops allowed us to get acquainted, as we came together as journalists, Hyundai staff, hydrogen consultants, photographers and digitalists.  To catch the ferry, we had to keep sufficient pace, while trying to go easy on the gas pedal to save energy.
Short photo-stop in Norway: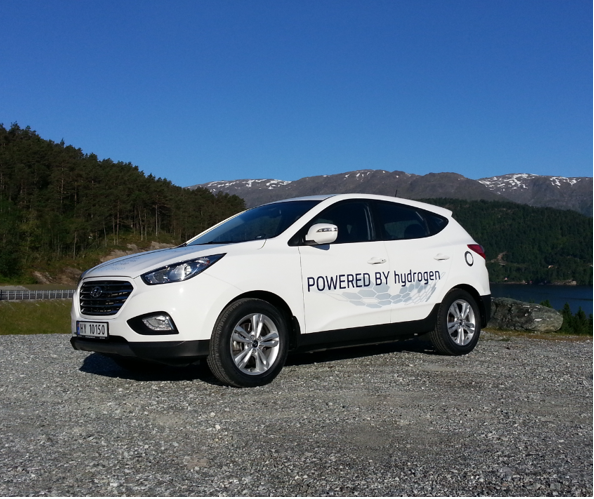 2013 Hyundai Tucson ix35 FCEV (fuel cell-electric vehicle)
On the last 30 kilometres before arriving at the refuelling station in 
Porsgrunn,
the fuel warning light started blinking.  Wow, already on Day 1.  Fantastic!  As was to be found out in the days to come, handling the speed resp. the acceleration properly is key to efficiently using the hydrogen available on board and get the most out of it; be it in relation to time or range.  At 02:45 p.m., and after the first 426 km, I arrived at the hydrogen refuelling station, operated by HYOP, and refuelled 4.89 kg of gasous hydrogen (GH2).
According to the CEO of HYOP, Porsgrunn station was built in 2007.  It receives the hydrogen from a nearby industrial plant, as it is a by-product, through a pipeline; but only at about 30 bar pressure.  When FCEVs come to refuel, the hydrogen is then compressed to 700 bar, and this of course requires additional energy.  The gentleman further explained that one type of station was being tested here, and that this station was going to be dismantled, and relocated, and a new type of station with a different system soon to find its place here; how exciting.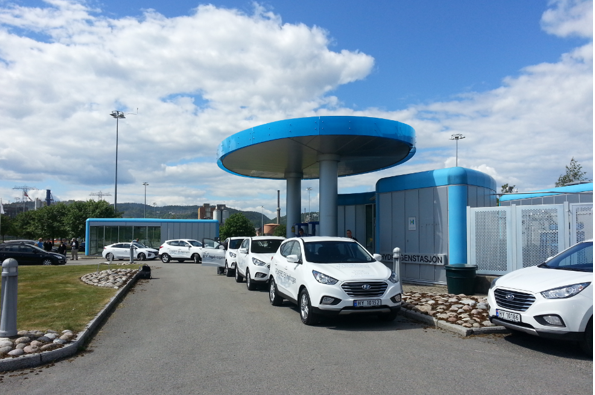 Hydrogen Refuelling Station at Porsgrunn HYOP
All replenished, the journey continued for a half-hour direction South to the Norwegian ferry port Larvik.  All vehicles arrived in time to cross the North Sea onboard the 4.5-hour ferry to reach Denmark.  Until arriving in Aalborg, our first overnight stay, a total of 526 km, a good-fifth of the entire distance, was driven by each participating FCEV and the supporting vehicles on Day 1.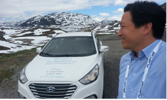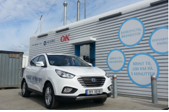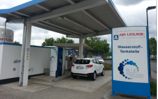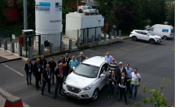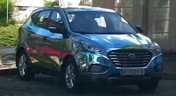 Mortimer Schulz (#HydroChan), the owner and founder of solutions in energy e.U., drove in a hydrogen car, a Hyundai Tucson ix35 FCEV fuel cell-electric vehicle (#FCEV), for five days, along with several other FCEV-drivers, a total of 2,316 kilometres from Bergen to Bolzano from June 12 to 16, 2016, starting in Norway and passing through Denmark, Germany and Austria to finally arrive in Italy.