Hydrogen Challenge #2 Bergen-Bolzano (Day 2)
The morning of Day 2 (13.06.2016) began for all FCEVs with a 3-minute hydrogen refuelling at Århus, Denmark.  The station was run by H2Logic (meanwhile superseded by NEL Hydrogen Refueling), a Norwegian-Danish company which at the time ran 9 hydrogen refuelling stations in Denmark.  4.04 kg H2 were filled.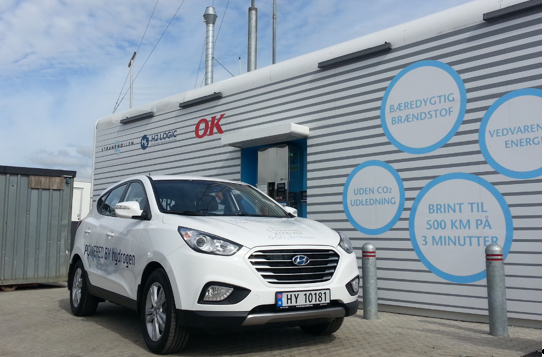 H2Logic (NEL) – Hydrogen Refuelling Station in Århus, Denmark
En route to Germany, the FCEV group stopped at Kolding, Denmark for a presentation held by Hyundai Denmark and the Danish hydrogen association.  Among others it was reiterated that in addition to the existing 9 hydrogen refuelling stations in Denmark, two more H2 stations were still to be opened in 2016.  One was just being inaugurated in June 2016 in Esbjerg.  Quite a decent spread for a country with a population of 5.6 million.
Thereafter, continuing direction South and crossing the Danish-German border and passing through the federal state of Schleswig-Holstein to reach the Day 2-destination Hamburg, a second hydrogen refuelling took place.  At the Vattenfall Hafencity hydrogen station (see picture) I refuelled 4.61 kg H2 (to prepare for a full tank for the next day).  A total of 453 km were driven on Day 2.  As up in Denmark and the North of Germany it is all rather flat topography (with a lively mixture of rain and Sun, slight overcast and moderate winds), the hydrogen consumption ratio of just a fraction more than 1 kg H2 per 100 km the FCEV was quite in line with efficient driving and saving energy; and of course maintaining the same speed on the motorway.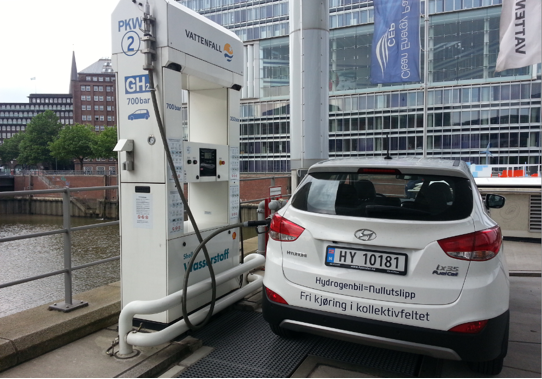 Day 2 – Hydrogen Refuelling at Hamburg (Hafencity, Vattenfall)
The city of Hamburg is blessed with 3 operational stations and two more under construction, as the whole of Germany is planning to add several more stations in the near future.  A support team, also organised by Hyundai Europe, driving in two combustion engine vehicles on each of the five days started ahead of the FCEVs to take care of the logistics at the next destination en route and to welcome the FCEVs upon arrival at each waypoint.  They made sure we found our way to the dinner venues and the hotel rooms.