Longest Hydrogen Road Trips
2,477 km/1,539 mi Innsbruck-Rotterdam-Innsbruck (November 2018)
2,316 km/1,439 mi Bergen-Bolzano (June 2016)
2,129 km/1,323 mi Innsbruck-Amsterdam-Innsbruck (February 2016)
Furthest Trips With A Single Tank
551 km Offenbach-Innsbruck (Mai 2019)
483 km Innsbruck-Wien (Aug 2016)
428 km Bergen-Porsgrunn (Jun 2016)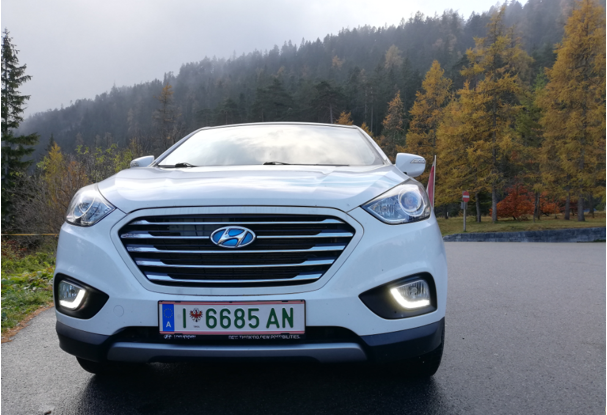 November 2018, 2,477 km Innsbruck-Rotterdam and back.  It was the second time from Austria to The Netherlands.  Many more hydrogen refuelling stations opened in Germany now.  Also passed through France and Switzerland.  Hyundai ix35 FCEV, in its 5th year, continues to be a great hydrogen ride.
In June 2016, more than a dozen Hunydai ix35/Tucson FCEV started from Bergen (Norway), crossed the North Sea by ferry, passed Denmark, Germany and Austria to reach Italy in five days.  Thanks to Hyundai Europe for sponsoring such a great adventure and thank you to the team drivers, organisers and supporters.
In February 2016, I drove a Hunydai ix35/Tucson FCEV from Innsbruck, passing through Germany, to Amsterdam in net driving time 17 hours.  I refuelled hydrogen at Innsbruck, Stuttgart, Karlsruhe, Duesseldorf and Helmond.