Hydrogen Challenge #1 Innsbruck-Amsterdam (Part 1)
On February 16, 2016, the Hydrogen Challenge #1 started in Gschnitztal, Tyrol at 06:45 a.m. at minus 11 degrees Centigrade.  The first hydrogen refuelling was carried out at Innsbruck in Andechsstrasse 83.  And my journey began.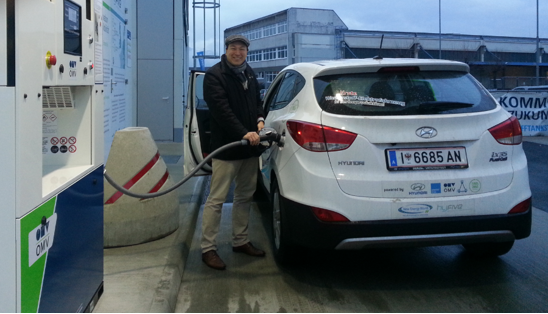 The hydrogen, as I learned, is reformed from natural gas (from another part in Austria) and transported to Innsbruck by truck.  The capacity at the station is said to allow for refuelling 200 FCEVs per day.  With an estimated three dozens of FCEVs currently driving in Austria and several other European licence plates passing through, one may safely assume that there is no shortage of hydrogen there for the moment.  Refuelling takes three to five minutes, and you pay in the shop; 9 Euros per kilogram of gasous hydrogen (GH2).
A Tyrolian utility company operates a number of fuel cell-electric vehicles and I rented one in Innsbruck.  Since May 2015 one can take an FCEV out of Innsbruck, refuel it there and go places, as I found out, as far as Amsterdam; 1,099 kilometres away.
Mortimer Schulz (#HydroChan), the owner and founder of solutions in energy e.U., drove in a hydrogen car, a Hyundai Tucson ix35 FCEV fuel cell-electric vehicle (#FCEV), for two days with a total of 1,099 kilometres from Innsbruck to Amsterdam on February 16 and 17, 2016.