Hydrogen Challenge #1 Innsbruck-Amsterdam (Part 2)
On February 16, 2016, Part 2 of the Hydrogen Challenge #1 continued from Innsbruck, Tyrol to Stuttgart, Baden-Württemberg at 07:35 a.m. driving 333 kilometres to Stuttgart – Flughafenstrasse 70 arriving at 12:50 a.m. to refuel hydrogen.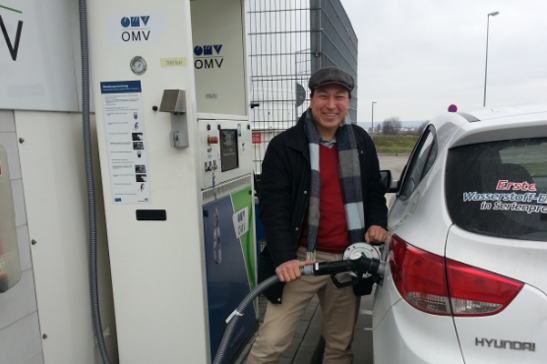 During the second hydrogen refuelling stop on my way from Innsbruck to Amsterdam, the 1st leg from Innsbruck to Stuttgart was mainly driven on country roads. Temperatures were mostly below the freezing point and the winding roads in the mountains were decorated with snow-covered trees; like…
…being in a fairy tale.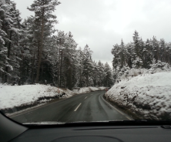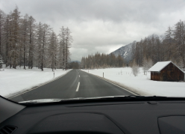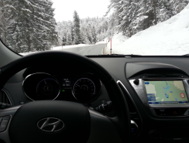 After the Austrian-German border it was another 193 km to the hydrogen refuelling station in Stuttgart, but that stretch took 3 hours to drive as, again, country roads were chosen over motorways, and because I kept a rather light foot on the accelerator.  Driving faster, such as on the German motorway, would have meant a higher and faster consumption of the energy available in the hydrogen tank.  Going on the safe side, I needed enough reserves to get to Karlsruhe just in case refuelling would not have worked in Stuttgart.
Stuttgart has one of the oldest hydrogen refuelling stations in Germany, possibly it was also the first public and commercial station, as the gentleman on duty there told me.  He added that it quite frequented, so that the service is generally good and as I found it all went smoothly.  He showed me that you have to obtain the key from the shop before you can refuel, and afterwards you relock it and return the key.  So I replenished 3.81 kilograms of gasous hydrogen.  As in Innsbruck, also this station is operated by OMV.
Mortimer Schulz (#HydroChan), the owner and founder of solutions in energy e.U., drove in a hydrogen car, a Hyundai Tucson ix35 FCEV fuel cell-electric vehicle (#FCEV), for two days with a total of 1,099 kilometres from Innsbruck to Amsterdam on February 16 and 17, 2016.