EL-MOTION 2019 Vienna HydroChan
The 9th EL-MOTION Conference on E-Mobility in Vienna was held on 30 and 31 January 2019.  It was my first time to attend it, and I listened to great presentations and I talked to interesting representatives.  Various electrified vehicles were on exhibit inbetween the stands of companies, organisations and solution providers.  Among others, one of the vehicles shown was the HYUNDAI NEXO.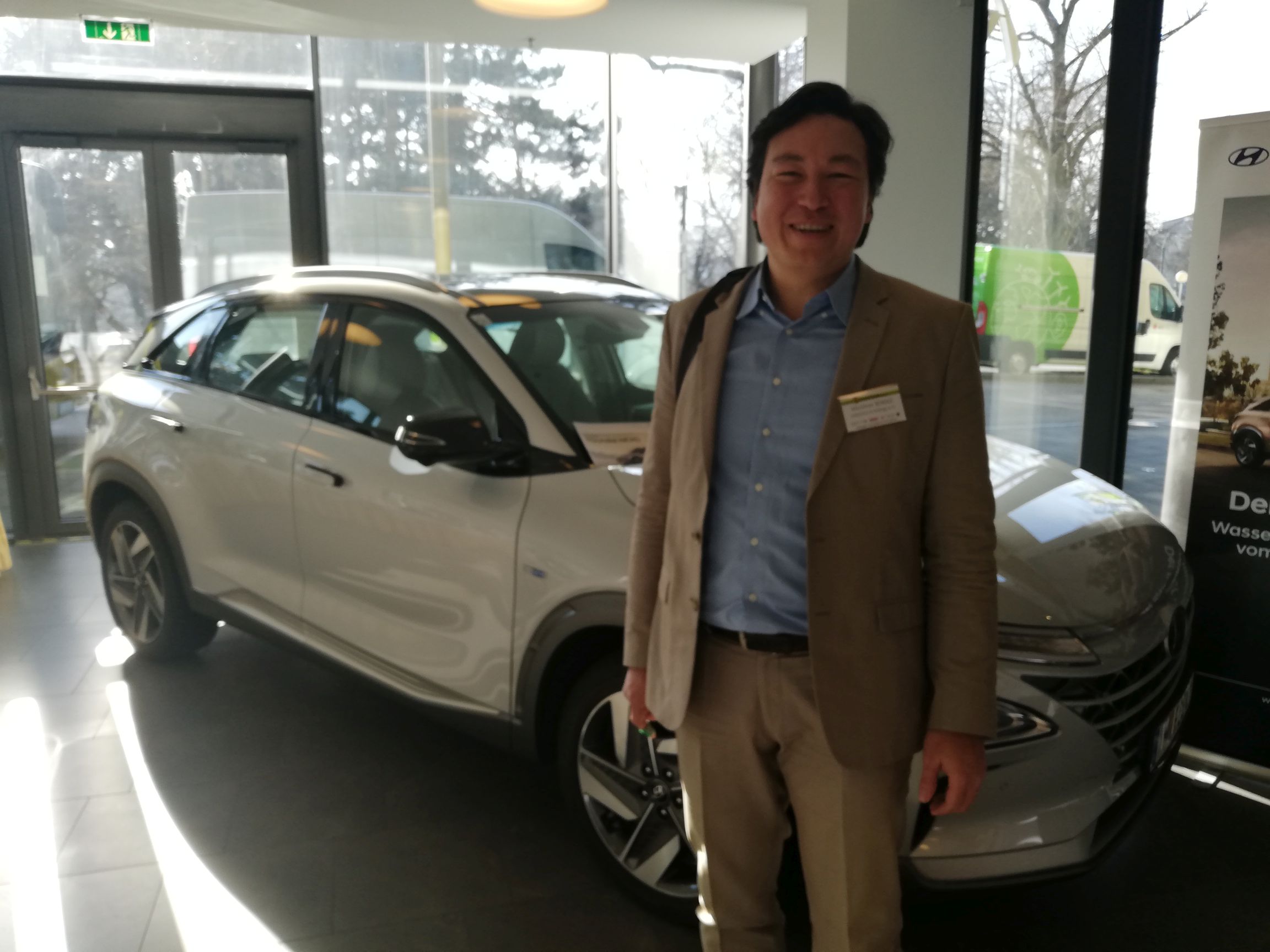 Following my initial involvement in green events some 10 years ago, a ton of innovations has taken place since and the questions by the audience seems to have gone to the next level.  About 400 people joined this conference, and while I did not hold a presentation this time round, I interacted also with visitors admiring the HYUNDAI NEXO, and reported to them on some of my experience with this visionary fuel cell-electric car that has already become reality.
Also on exhibit were the Hyundai Kona EV, two electric vans, an electric SUV and several other two- resp. three-wheel vehicles as well as, to my great surprise, electric construction vehicles and an entire electric bus (SOLARIS).
One observation, if I may, is that presentations generally still began with the notion that we ought to adapt to changes treating e-mobility as if it is something rather new.  However, I should think that in the coming years presentations at this and other such conferences will actually declare e-mobility as, sort of, the 'new normal', and that it is not the change aspect we are all facing, but rather the step afterwards, i.e. what we are going to do with this new technology and peripheral services, or probably already are doing.
This conference format, held at the Radisson Blu Hotel Park Royal Palace in Vienna Schönbrunn, has the right setup with great food and drink, and I look forward to attend the EL-MOTION again.
Since I have been conducting many business trips for my company SOLUTIONS IN ENERGY E.U. with electric cars (especially including fuel cell-hydrogen), I work among others on new business models and solutions involving such great technology.
@Herr Heilmann:  Thank you for taking the picture of the Hyundai Nexo and me, above.
EL-MOTION+FC 2019 Second Day
After a good rest, the first session on the next morning began at 08:30 am.  A considerable part of the day was dedicated to hydrogen and fuel cell topics.  This so particularly with regard to the freight business, i.e. long-haul delivery routes such as trucks and trains, but also light-duty and special vehicles.  See further blog:
Other Hyundai Nexo Blogs
December 2018 – HYUNDAI NEXO Winter Test Kamptal
December 2018 – HYUNDAI NEXO Schloss Gobelsburg Kamptal wine tasting
September 2018 – Introduction of the HYUNDAI NEXO in Munich
April 2018 – First Encounter with the HYUNDAI NEXO in Hanover and other cars