Meeting the new Hyundai Nexo in Munich one day before the Oktoberfest
Following a first encounter in April 2018 with the new Hyundai Nexo at Hannover Messe, I re-met the Hyundai Nexo on 21.09.2018 evening in Munich, and had driven there from Mautern an der Donau with the previous Hyundai ix35/Tucson FCEV.  I refuelled hydrogen at Asten (Linz), Munich Airport and Wiener Neudorf, and found out some peculiarities about driving with hydrogen for long distances.
Introduction of the Hyundai Nexo in Munich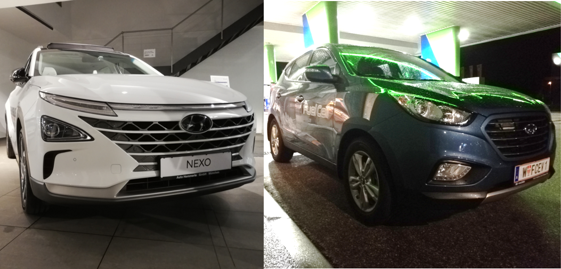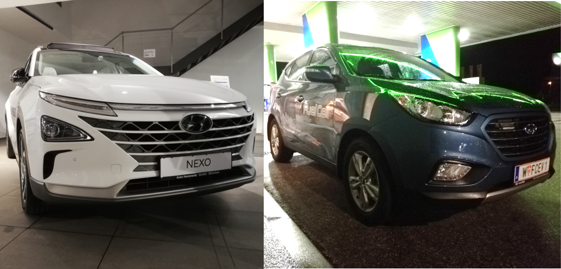 In Germany, there are about 400 Hyundai dealerships of which some 50 sell the Nexo.  Auto Hemmerle GmbH in 81825 Munich is one dealer who emphasises FCEVs.  I was happy to join the introduction of the new Hyundai Nexo on their premises.  After three presentations and a beautiful white car under the veil, the crowd was asked to come and explore.  Compared to the ix35/Tucson, the Nexo is a completely new car.  When talking to some guests, I felt like part of a hydrogen community with a vision.  Drinks and snacks were served; and I enjoyed two bottles of alcohol-free beer.
Special features of the Hyundai Nexo (for me)

The press has already written so much about innovative features of the Nexo, and my two favourites are the sunroof and cruise control.  They are two aspects I missed so far in the ix35/Tucson.  Though simple, I find it essential.

Taking one FCEV to see another FCEV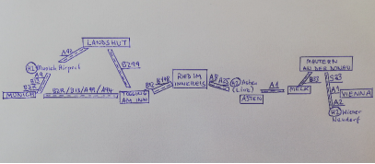 The map is an overview of my tour starting in Mautern an der Donau.  After four hours, including a hydrogen refuelling stop at Asten, I arrived in Munich.  On the way back, I refuelled hydrogen at Munich Airport, and drove past Landshut and Ried im Innkreis to refuel hydrogen at Asten (again) and return to Mautern.  Before returning the ix35 to Hyundai Vienna on 24.09.2018, I refuelled hydrogen at Wiener Neudorf.  A total of 916 km (570 mi).
Long distance-electric driving with hydrogen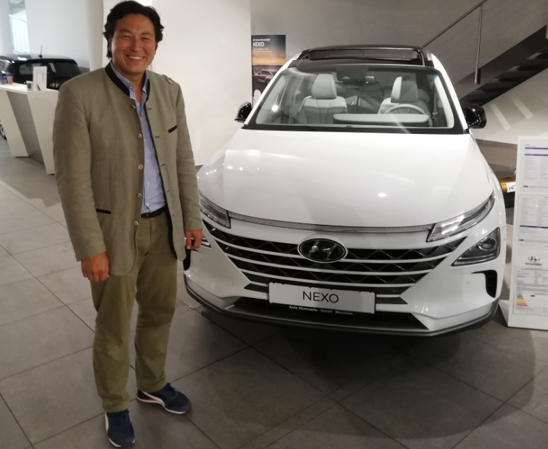 One main advantage of the Nexo over the ix35/Tucson is the longer range, thanks to the three hydrogen tanks over two previously and more efficient consumption.  Yet, I have to try the Nexo on long distances to compare it to my experience with other FCEVs the last five years.  Driving the ix35 from Mautern to Munich and back, I gained experience about driving FCEVs.
From Mautern to Munich, I tested maximum speed, and, on the way back, tried to ration my hydrogen reserves.  At each refuelling stop, I checked the time it took as bars/kilograms of hydrogen were progressively compressed into the FCEV's tanks.  The first leg between Mautern and the Austrian/German border took 20 km off my range, driving at 130 km/h.  After the border, going at 168 km/h, the range was reduced by even 30 km, which I however regained gradually as I reduced speed.  Afternoon temperatures were 28-24° C/82-75° F.  I also used air condition and other electric appliances, including charging my cell phone; simply, I wanted to try a different driver profile.  For the second leg, from Munich to Mautern, however, I needed to make sure to get to Wiener Neudorf (440 km/274 mi), even though I only needed to reach Mautern.  Thus, and after refuelling at Munich Airport, I started with country roads at first to build up some reserves.  It took a distance of 160 km/100 mi until the range was breakeven with my distance.
Asten (Linz) – hydrogen station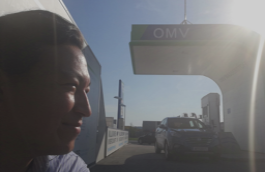 The first stop was at OMV (4481 Asten / near Linz, An der Bundesstraße 1).  I had 180 bars left, and I topped it up to 705 bars (3.39 kg) costing me EUR 30.51.  I spent 16 minutes, including paying for the fill.
Munich Airport – hydrogen station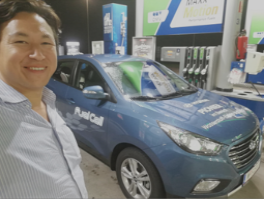 After the event at Auto Hemmerle, I wanted to test the new Munich Airport for the first time and drove up North for 28 miles.  It was also OMV (Erdinger Allee 2, 85356 Munich, but the station's location is near Hallbergmoos, signs for Terminal 1 and Erding).
I got 640 bars (4.39 kg) of gaseous hydrogen (GH2) at a cost of EUR 41,71, which I paid for with the CEP-card.  In the picture, the terminal is on the left.  I push it in, enter my PIN and then I refuel.  Then, I press a button on the screen for the receipt; it took me 9 minutes in all.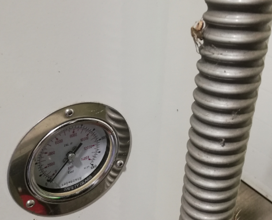 My remaining range on arrival was 194 km and, with Wiener Neudorf 174 km away, I had 20 km spare; in case it might not have worked.  But, I got 435 bars (2.47 kg) resulting in a new range of 405 km; due to my driving profile.  So, I greeted the spider on the hose, checked the tyre pressure, and headed to Mautern.  Night temperatures were 16-11° C/61-52° F.
Wiener Neudorf – hydrogen station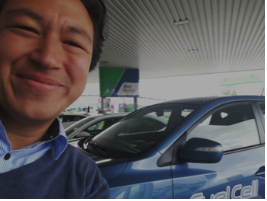 On the following Monday, I refuelled to 720 bars at OMV (IZ NÖ Süd Strasse 4 Objekt 9, 2351 Wiener Neudorf), and thought how it may have been different with the Nexo, or if I had stayed and gone to the Oktoberfest.
#HydroChan Testing/Touring Date:  21.09.-24.09.2018
FCEV stands for Fuel Cell-Electric Vehicle
CEP stands for Clean Energy Partnership
I saw 2 BMW, 2 Renault and 2 Tesla and a few hybrids.
LINKS
Mortimer Schulz solutions in energy e.U.