#WOCOMOCO Berlin 2017 "I had to say it"
World Collaborative Mobility Congress is abbreviated as WOCOMOCO.  The congress takes place once a year, and I was fortunate to attend the one in Innsbruck in 2015 already.  So, Berlin 2017 was my second time already.   What makes this very congress in my eyes so unique is threefold:  (1) carsharing/bikesharing and other future-minded mobility stakeholders meet and exchange at the same time and same place and talk as if we all were already in another Century, and some of the ideas you hear are truly way beyond, (2) one attends a "bar camp" (optional) which is somehow like a workshop among shall-we-say "start-ups" or also professionals and one presents new ideas and then the audience votes, and three such parallel bar camps then bring forth three winners and they get to speak in front of the main audience again and (3) everyone's voice counts, be it in large plenary formation or parallel sessions, round tables and bar camps, everyone can voice their opinion and be part of the entire congress; one does not see that too often being done so efficiently and sensibly.  On 19 October, 2017 in Berlin I held my short presentation on introducing hydrogen mobility to car sharing.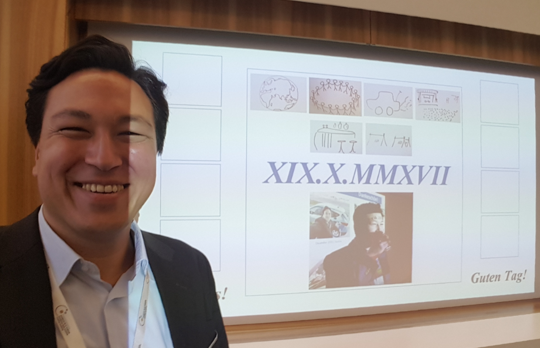 The question is of course why hydrogen?  Easy, I test-drove compressed natural gas (CNG) and pure battery electric (BEV) and hydrogen fuel cell electric (FCEV), and hydrogen has had the least mention, but is equally emerging as an alternative propulsion with an equal future perspective as battery-electric.  It is only sad to see that CNG has not enjoyed the fame of some recent car sharing fleets going green.  Oh well, you still have carbon emissions, but with all new cars you still have to build them.  So is it not better to try to reduce our resources and move over to public transport or to bikes altogether?  There is no clear line that we should only follow one path.  But this is the beauty of WOCOMOCO, everyone has a voice and that is why we are there to gather together and discuss.  For a copy of my presentation please Email Mortimer #HydroChan.