Six senses tour in Gobelsburg
On December 13, 2016, Mortimer Schulz, the founder and owner of solutions in energy e.U., drove from Vienna to Gobelsburg and tasted a young Grüner Veltliner, 2015, Ried Steinsetz, 13.0% vol. alc.  The Vineyard and Castle were reached by driving the FCEV (average 1.5 kilograms of hydrogen per 100 kilometres).  The wine-tasting and the FCEV were compared; thereby alluding to the six senses.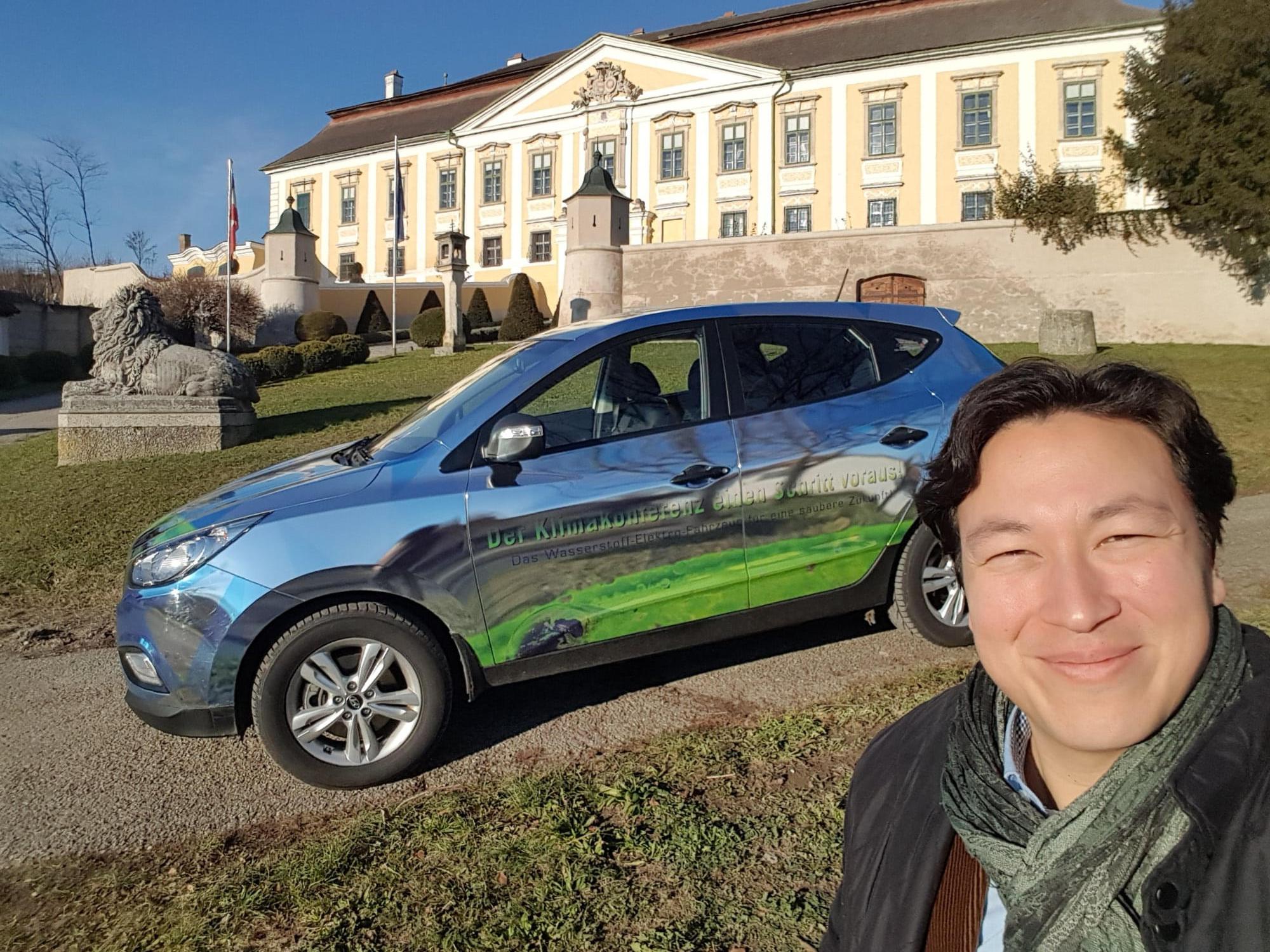 SIGHT
Veltliner:   light citric yellow going into pale but clear
FCEV:  intense
HEARING
Veltliner:   you hear the cling of the glasses when you toast
FCEV:   clean (something like "wwwwhhhh")
SMELL
Veltliner:   fruity but subtle; thanks to the Sun and cold winds from the North
FCEV:   discreet and refreshing
TASTE
Veltliner:   young but strong body with fruity and flowery elements
FCEV:   balanced (see "FCEV senses" below)
TOUCH
Veltliner:   liquid pure
FCEV:   brisk
HYDROGEN
Veltliner:   elementary (in combination with carbon and oxygen)
FCEV:   oxidised.
FCEV senses
Emphasis was laid on experiencing the FCEV with all of the senses.  The residual by-product "H2O" as was collected in a glass (see middle picture) was not yet tasted this time.  Further testing coming up.
Schloss Gobelsburg
Thank you Eva Moosbrugger and Katharina Breitenecker for the tasting and delivering a superb wine.  Family Moosbrugger operates the vineyard since 1996 and they are a member of the Österreichische Traditionsweingüter.
As I cannot drive to their vineyard during Corona right now, Schloss Gobelsburg is however also delivering if you order online.   This is the Wine List, and there is a button to write to Email Schloss Gobelsburg.   I find that very effective indeed.  Plus, in case you would like the wine to be delivered to Vienna, Austria, on Tuesdays and Thursdays there are no charges for the delivery at the moment.
SIX SENSES – TEIL VI  –  Coming Soon