When driving long distances, electric driving is a real win-win for me.  Firstly, I arrive refreshed.  Secondly, I travel free of carbon emission and with less noise.  Sofar, I have done two trips (Hydrogen Challenges #1 and #2) with more than 1,000 kilometres each.  These trips are yet a challenge, because of the limited availability of hydrogen refuelling stations along the way.  Hydrogen Challenge #3 is in the planning stage.
Hydrogen Challenge #3 – Innsbruck to Rotterdam (November 2018)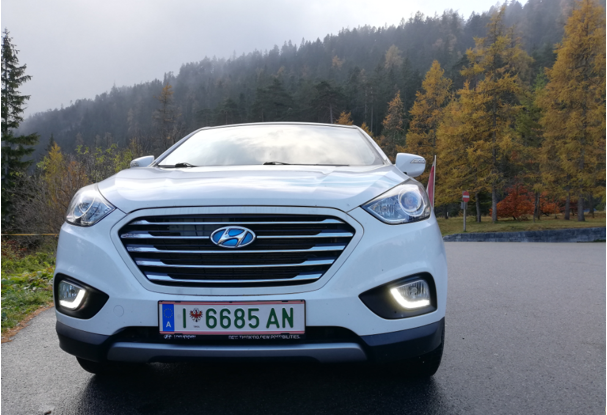 Hydrogen Challenge #3  November 2018 Innsbruck-Rotterdam and back 2,470 km.  Tyrol (Austria) was the starting point of my Innsbruck-Rotterdam Hydrogen Challenge #3 journey on 11-03-18.  I drove the Hyundai ix35/Tucson FCEV which was the same one as on my Innsbruck-Amsterdam Hydrogen Challenge #1 journey in February 2016.  Thanks to many additional hydrogen refuelling stations in Germany, I was able to cover 871 km (541 mi) in one day arriving at Helmond (The Netherlands) after being more than 11 hours on the road.  I refuelled a total of 13.13 kg of gasous hydrogen (GH2) on that day.
Hydrogen Challenge #2 – Bergen to Bolzano (June 2016)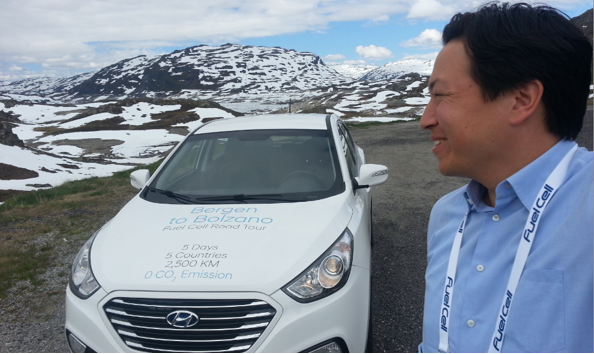 Hydrogen Challenge #2   June 2016 Bergen-Bolzano 2,316 km.  Heading South, I joined a group of FCEV test drivers, thanks to Sven Geitmann (H2-International), five days in five countries (Norway, Denmark, Germany, Austria and Italy).  Everyone arrived well and on time.  [5 Blogs]
Hydrogen Challenge #1 – Innsbruck to Amsterdam (February 2016)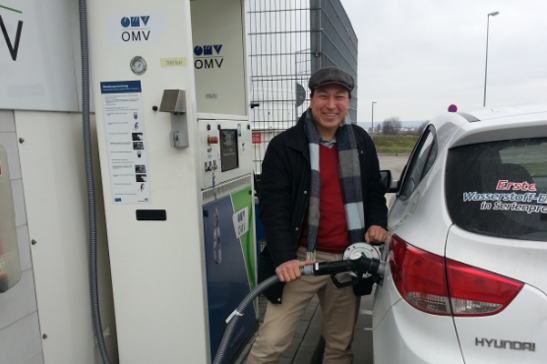 Hydrogen Challenge #1   February 2016 Innsbruck-Amsterdam 1,099 km.  Heading North, I tested a Hyundai ix35 FCEV (fuel cell-electric vehicle) with a driving time of 17 hours and hydrogen refuelling stops at Innsbruck, Stuttgart, Karlsruhe, Duesseldorf and Helmond; good service at all stations.  [6 Blogs]
I am always on the lookout for fellow electric drivers.
Contact Mortimer #HydroChan.
See all Hydrogen Challenge Blogs
Mortimer #HydroChan