Munich Hydrogen Refuelling Stations – Take Two HydroChan
On February 7, 2017, I had visited two stations, one in Munich Central, and one in the Munich vicinity.  I wrote about it (Take One) in the Linde-blog.  At that time, there was an earlier station at Munich Airport, which I tried to find as well, but which was closed down.  Meanwhile, a new station was built at Munich Airport.  And three more stations were opened in the city of Munich, plus one more at Fürholzen West, North of Munich city, West of Munich Airport.
On January 4, 2019, I drove to Fürholzen West, to Kreiller Strasse and to Ottobrunner Strasse; the latter two located in the South-East of Munich city.  I left out Verdi Strasse this time, which is located in the South-West of Munich city, and shall venture to stop by there next time.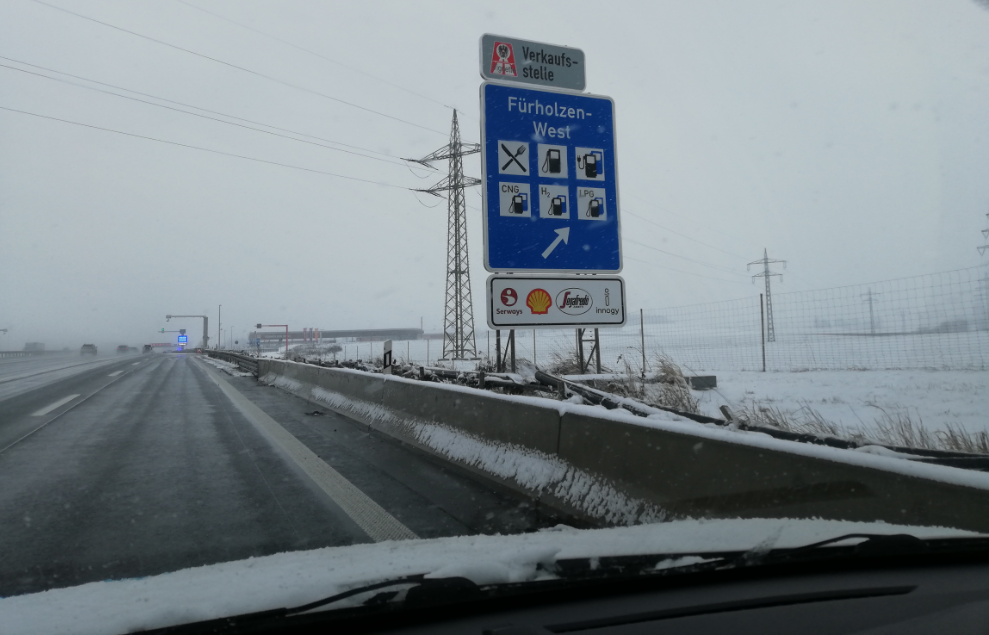 I had left behind me the township of Weichs, where I met with the cartoonist Armin Schöntag AGD, to develop the #HydroChan-character; see separate Morning in Weichs-blog.  Cruising along the Autobahn A9 amidst plenty of snow and wind, a new type of sign indicated the Fürholzen West-hydrogen refuelling station.  As in the picture above, they also have on offer the petrol and diesel fuels, as well as compressed natural gas and liquefied petroleum gas, and of course carbohydrates (edible energy storage for us humans) …
As seen below, a lot of wood is used in the architecture at Fürholzen West station and the hydrogen buffer tank and compressor are behind the wooden fence.  I drove up with the Hyundai ix35/Tucson FCEV for a quick snapshot but did not refuel here.  The Walther-nozzle is used for refuelling, and I shall try it out another time and blog about it then.  Also, this station featured electric charging; so, off we go into the Future.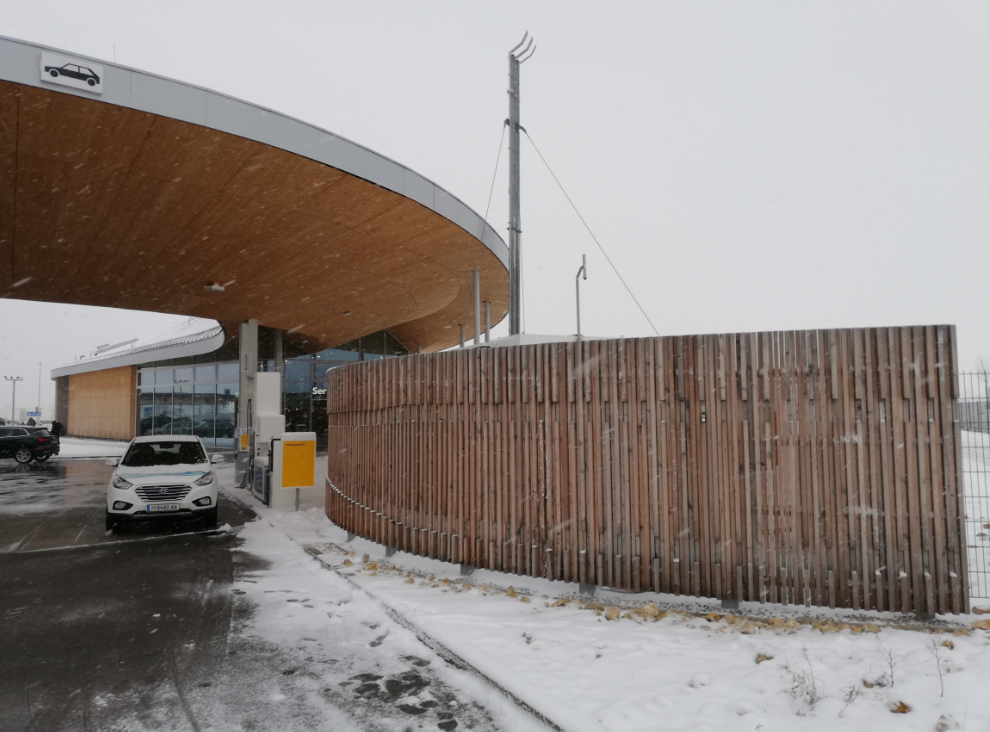 Thereafter, I headed South on the A9 and switched to the B304.  It was time to re-visit Kreiller Strasse (Allguth), see below picture, as I had been there once before, already.  The hydrogen refuelling time took 165 seconds (less than 3 minutes).  My remaining bars of hydrogen in the car's tank were 110.
My hydrogen refuelling experience in Munich
After 30 seconds, the gauge showed 250 bar (0.9 kilograms of gaseous hydrogen were refuelled, equal to 140 bars).
After 60 seconds / 350 bar / 1.7 kg H2.
After 90 seconds / 450 bar / 2.6 kg.
After 120 seconds / 550 bar / 3.3 kg.
After 150 seconds / 650 bar / 3.9 kg.
Finally, after 165 seconds, 700 bar were reached and a total of 4.21 kg H2 were refuelled.  Hooray!
Price:  40 Euros; okay.  Payment only comes later by invoice, as I pushed in the "H2-Tankkarte", typed my secret number on the display and that is all.  But, I still went into the shop to get myself a sandwich or two and a splash of chocolate milk, and stop by the gents.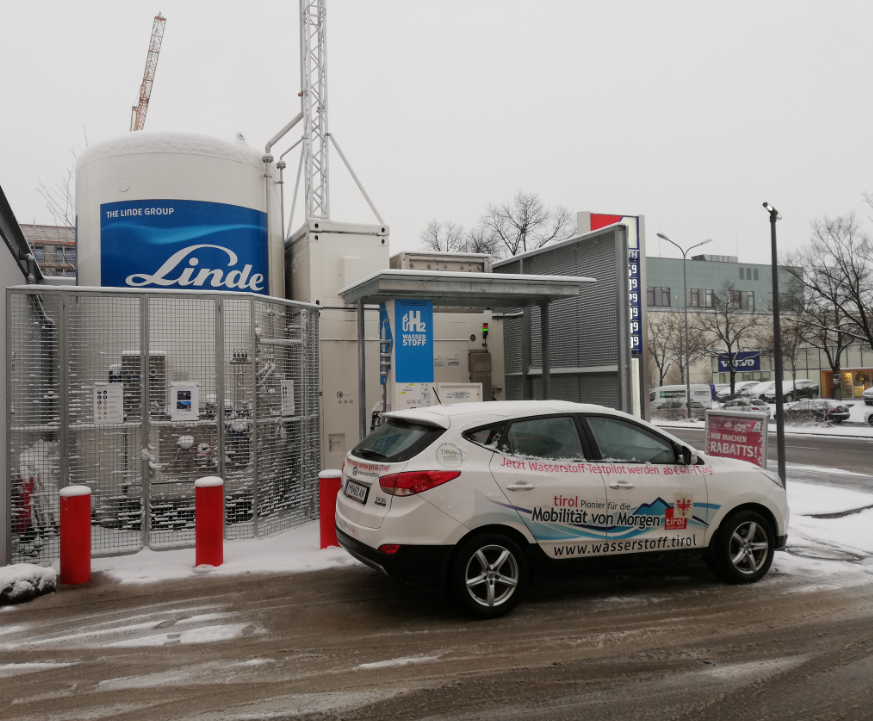 As a short side-visit, I dropped by Ottobrunner Strasse for a quick picture, as below, on my way back South to Innsbruck to return the car.  Next time, I shall also refuel hydrogen there.  It is amazing that in and around Munich there are already seven stations where one can refuel hydrogen.
It is advisable to check the App by H2 Mobility which gives live information of all the stations, mainly in Germany, very soon also across Europe.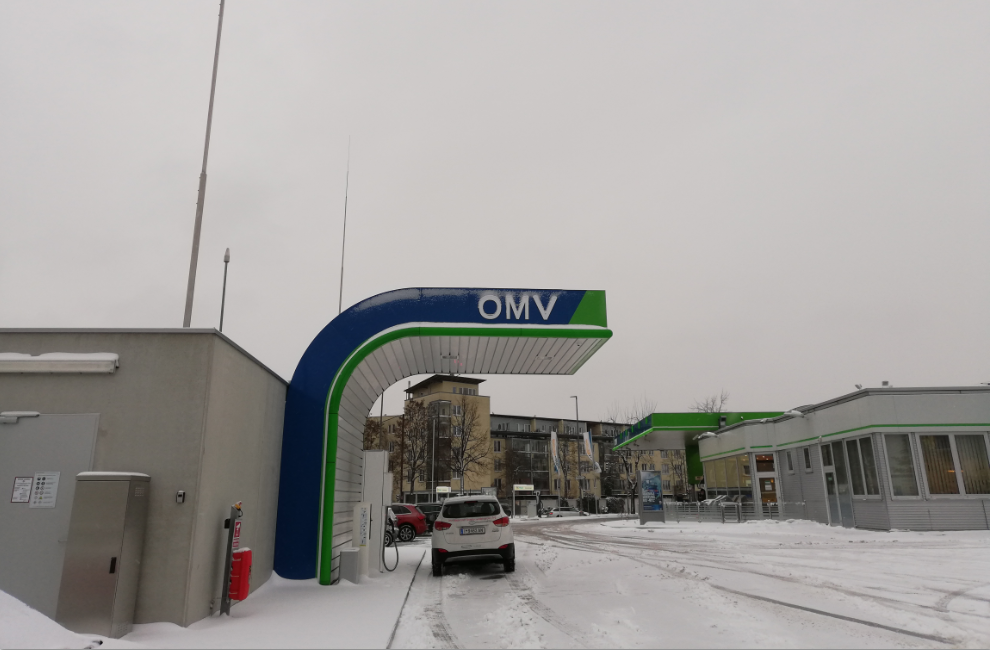 As I began driving with hydrogen before the App came into existence, I believe it is possible to cover great distances across Europe with and without the App, but with the App it is of course so much easier and faster.
Now, it would only be needed to integrate the App into the dashboard of the car which I would find quite useful and more practical, especially since with a foreign smartphone I am roaming in another country, and, what I require most (personally, according to my driver's profile) is the information of alternative stations along the way coming up automatically, as well as the next-next stations after my next refuelling, so that I have a choice where I want to leave the main road, and can plan my trip, for a Winter Test or so.
Verdi Strasse, I am on my way to you!
More on Hydrogen Refuelling Stations