Mercedes-Benz B-Class FCELL Hannover Messe Mortimer Schulz Solutions hydrochan
Merecedes-Benz Future Mobility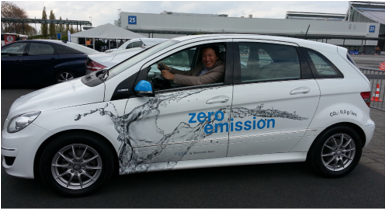 As a child of the 1980ies, I used to draw cars and tried to think what the future would be like.  Years later in 2016, I find myself sitting in a Mercedes with an electric engine.  It said zero emission in blue on the side doors.  This meant for me that no CO2 (carbon dioxide) is being emitted while I drive.
I test-drove this Mercedes-Benz B-Class and the gentleman from the Mercedes company, Mr. Ronny Weber, presented it to me.  He also took a few extra minutes to explain in full detail about the technology and the history of Mercedes prototypes in working on new engines.  It was clear to me that I had been right as a child.  And today, we are driving the future.
To just put the driving experience in a very few words:  I enjoyed the classic Mercedes-style with the difference that electric engines have different sounds, they are not entirely quiet, they just sound a bit more like a spaceship, and you need to know what to listen for, so I can imagine that people need to get used to it a bit, but the acceleration is so much more smoother and swifter.  It seems the handling is so much easier and in a way lighter.
Also, you are not changing any gears, though that would be the same for any automatic transmission there is here also no kinetic movement of the entire car (which still weighs approx. one and a half ton) when the automatic car changes the gears.  It is gas pedal and brake pedal.  But of course when you brake or slow down, excess energy not yet used, is fed back into the battery.
What is more, is that apart from the usual petrol and diesel engines, this B-Class also has natural gas (NGT) and electric (B250e/W242 of the 2nd generation B-Class, or hybrid in the W247/3rd generation) variants, and the FCELL of course.  Wow!  I wish I could try and test them all.
So, I agreed to meet with Mr. Weber one day again and this is the 2nd B-Class FCELL-Blog in Berlin.
Also at Hannover Messe was on exhibition this interesting concept car, the F125 gullwing.   I had the chance to speak with someone from the prototype development team from Mercedes, who told me about this car.  I had seen it one time in Vienna at an exhibition before, and here it was again.  I liked how he told me that the move button from the blackberry phone was used on the steering wheel to navigate in the dashboard.
2018 Mercedes-Benz GLF-Class FCELL