Pal-V Flying car Liberty VTOL verticle take off and landing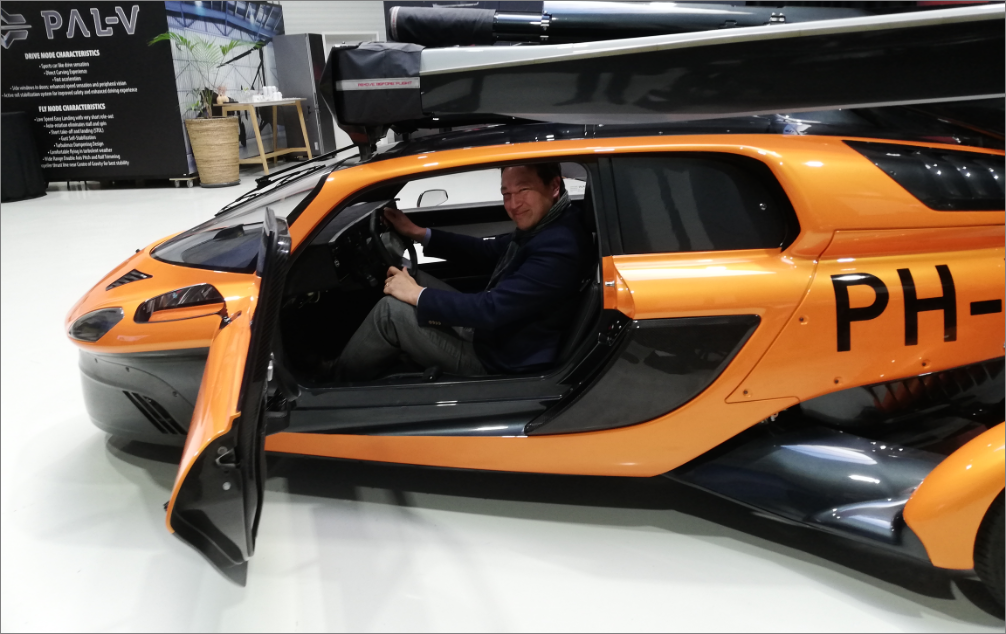 The world is still the place to be.  My recent pioneer hydrogen travels took me to The Netherlands.  There, I visited Carlo Maasbommel at Pal-V in Raamsdonksver.  We had met before and I promised to come see his premise.  I was seated in this beautiful VTOL (verticle-take off and landing) vehicle and aircraft.
Carlo explained to me, that some doctors just need to fly somewhere on a quick emergency and need to land on a specific spot.  A minister or a fire department chief may need to be brought at once to a certain place.  Or, you are simply bored sailing your yacht on the water and would like to feel as free as a bird.  The latter Carlo did not say, but is what I say.
So, if it is you behind the wheel, yoke or joystick, Pal-V will teach you how to fly the Liberty, as seen as the picture above, and as I sat in.  It weighs 664 kilograms, it has a ground speed of 160 km/h and a flying speed of 180 km/h.  Two Rotax engines are in the back of the fuselage giving thrust to a push-propeller at the end of the car resp. aircraft.  The rotor blades on your roof fold out and you only need an airstrip of 180 m and when you are fast enough you take off.  Driving will only require one of the two Rotax engines, service is available virtually on a global scale.  And, you can refuel it anywhere where you can get Euro 95, Euro 98 and E10 which is more or less everyhwere.
This is not an advertisement to make you go fly, it is as always, as I have tested CNG natural gas cars, electric cars and FCEV fuel cell-electric vehicle hydrogen cars, the chance to experience where the future is going, and realising that it is already here.  The aspect however is to realise where and when you can implement the Liberty of Pal-V and one will soon realise that this is not the future, but that we are meeting a need that has been required to be answered for a long time, and maybe here is the answer.
And, how we integrate and operate a new type of car and aircraft, all-in-one, for me takes three things: trying it out, working on new business models and, also, realising that nothing has to remain the same, for it is entirely up to ourselves (where we want to drive and how we want to fly).  Thank you Carlo Maasbommel for the invitation to your site in Raamsdonksver, near Breda and near Nieuwegein where I refuelled hydrogen.  Tot ziens!