Hyundai NEXO speed and acceleration test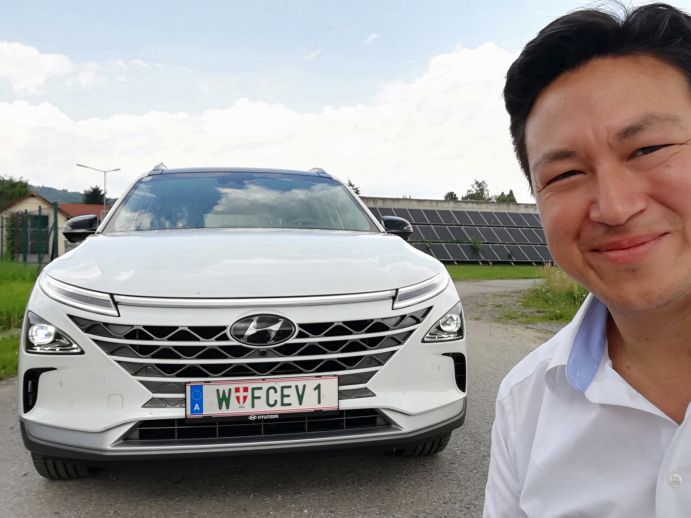 What is acceleration?
My direct answer is the following:  sit in a car with an electric engine, have a free road ahead of you, kick down the gas pedal and hold the steering wheel with both hands.  I will believe you if you tell me that you do not fancy that.  But, I will be exhilarated.   Since I used to drive an automatic gear Volvo with a petrol engine ages ago, I thought I knew what acceleration is, but, when it comes to e-mobility, there is always a first time in experiencing what acceleration is.  Fact is, you cannot compare it.
Hyundai NEXO Speed Test
This time round, I did not go top speed, just chased around the Austrian Motorway A1 in accordance with national speed limits and really to do something I normally do not do, and to get to know the Hyundai NEXO a bit better again.  Now, I want to take this point a step back:  I began driving electric cars in 2010.  It does not matter if we are talking about the BEV or the FCEV; they both got an electric engine.  With any propulsion and any fuel, such as petrol diesel and compressed natural gas, I am the type who goes very easy, light-footed and tries to get the most out of the available energy.  Therefore, for me to press hard on the pedal is something that is so not me.
Hyundai NEXO Acceleration Test
Many times I have joined discussions about electric cars going faster, though what people really meant was the acceleration that feels as if you are going faster.  It is like a misnomer, because you reach a certain speed and if someone overtakes you, you can still feel slow.  For tow days I was chasing the Hyundai NEXO in a rather hasty way.  I sincerely kept pushing the gas pedal hard and revving even though I knew I would have to slow down sooner than later.  I wanted really to pump that gas pedal with the whole strength in my leg.  Why?  I was looking at the consumption gauge of the hydrogen tank.  There are people out there who drive like that, and I wanted to know what happens.
Hyundai NEXO Fuel Consumption
Now I would like to mention some numbers:  I have reported in the past about the fuel consumption of the Hyundai ix35 FCEV (let's say the predecessor) as I have tested this car across Europe North and South East and West.  I have also reported on the Hyundai NEXO in the past.  But, these numbers really surprised me.
First, after picking up the car from Hyundai in Vienna, I drove rather comfortably on the A21 and A1 resp. all the way to Pöchlarn.  Basically there were a bunch of roadworks and I had no choice other than to go 80 km/h.  Of course, 102 km driven only deducted 68 km in range, a difference of 34 km (30% gain).  On the Speed Test Pöchlarn-Mautern, I did get minus 13 kilometres subtracted for 70 km actually driven (almost 20% loss).  On the Acceleration Test, as explained above, after driving 73 kilometres, I had to give up 33 kilometres of additional range (45% loss).  I think I found what I had been looking for.
Here is the magic:  on my last leg Tulln-Hyundai, I drove 57 kilometres with the same crazy foot gone wild, but had to incur a number of roadworks again, and the mix of these two variants took exactly 57 km off my range (0% loss/gain).  Wow!  So, the conclusion is, I can go revving but seem to be gaining my range back.  As I started initially at a full tank with a range shown of 508 km (of course based on historical data), it was exhilarating to see that there was still so much range left.  Unbelievable.

Data collected with the Hyundai NEXO